PandwaRF is a RF hacking tool with a sub-1 GHz wireless transceiver controlled by a smartphone or a PC.
Its purpose is to capture, display & transmit RF data very easily.
It can be connected to an Android smartphone using BLE or USB, and to Linux using USB.
It is based on the well-known RfCat & Yard Stick One tools with the Texas Instruments CC1111 RF transceiver, but with a lot of new features, making PandwaRF the perfect portable RF hacking tool.
Cheaper, simpler, smaller than a SDR.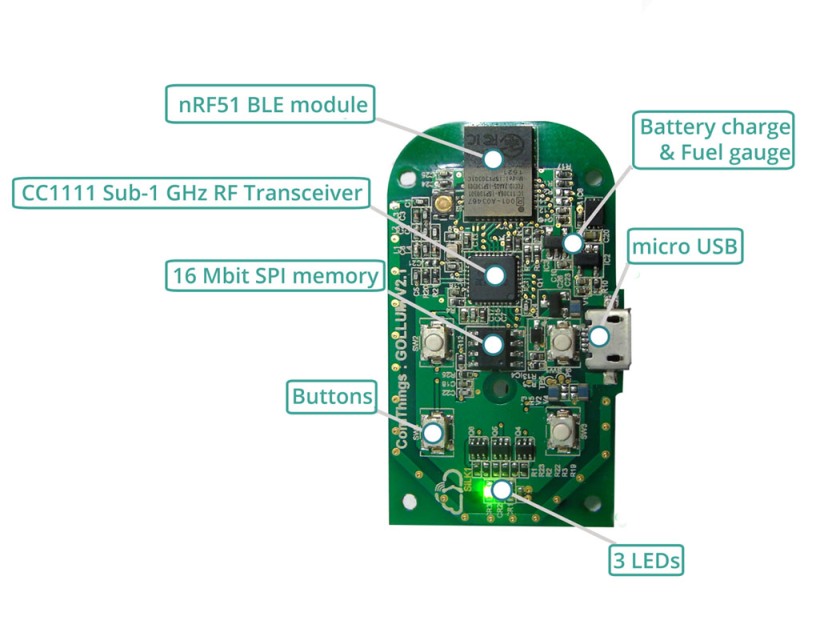 Bluetooth Smart Module ISP130301, based on nRF51

CC1111 Low-Power SoC with Sub-1 GHz RF Transceiver

Multi frequencies (from 300 MHz to 928 MHz)

Multi modulation (ASK/OOK/MSK/2-FSK/GFSK)

Transmit and receive in half duplex mode

Support data rates up to 500 kBaud
Long range portable version with case, battery & SMA connector
TX/RX amplifiers: Yes

Antenna port power for external LNA

SW & FW: PandwaRF Custom
API: Yes
OTA FW update: Yes
Antenna: External

Battery: Included
Debug pins: Yes – not mounted

Case: Black
Buttons: 4
Size: 48x85x15mm
Shipping: 3Q16
Shipping is included for European Union countries.
Short range portable version with case, battery & internal antenna
TX/RX amplifiers: No

–
SW & FW: PandwaRF Custom
API: Yes
OTA FW update: Yes
Antenna: Internal

Battery: Included
Debug pins: No

Case: Black
Buttons: 2
Size: 35x65x11mm
Shipping: 4Q16
Shipping is included for European Union countries.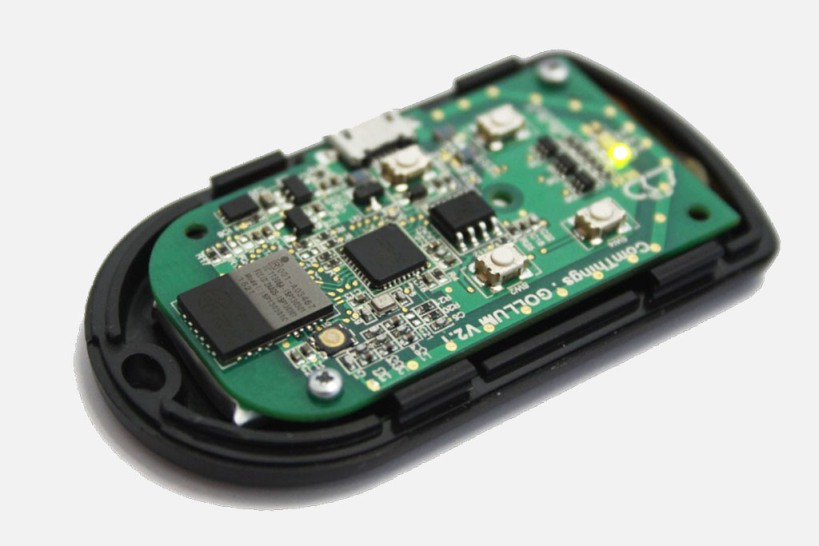 Full speed USB: 12 Mbps (Linux or Android)

Bluetooth Smart 4.0 (Android/iOS)

USB charging & battery powered

4 buttons to assign codes

16 Mbit Flash Memory to save custom RF protocols

Rechargeable battery powered for stand-alone operation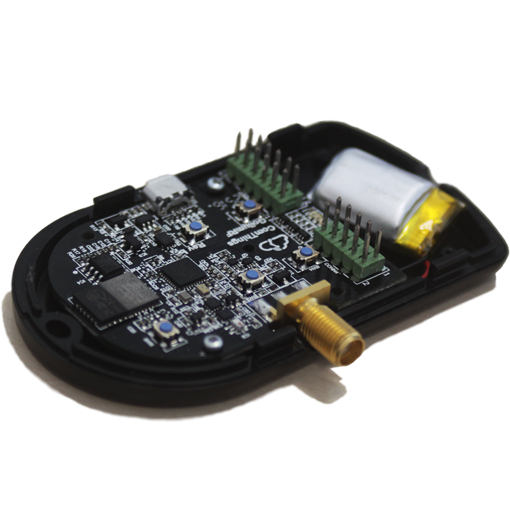 RX amplifier for improved sensitivity: +13dB from 300MHz-1GHz

TX amplifier for higher output power: +20dB @ 433MHz & +17dB @ 900MHz

SMA connector for external antenna

Antenna port power control for external LNA

22-pin expansion and programming header

Included: Battery and injection molded plastic enclosure
PandwaRF vs. RTL-SDR tools
| | RTL-SDR | PandwaRF |
| --- | --- | --- |
| Amplifiers | No | Yes |
| TX/RX | RX only | TX/RX |
| Max bandwidth | 3 MHz | 800 KHz |
| Frequency range | 24-1800 MHz | 315 – 433 – 868 – 915 MHz |
| Price | 20€ | 145€ |
| Supported host OS | Linux/Windows/Android | Android/iOS/Linux |
| Supported smartphone | USB | BLE or USB |
| Power source | USB | Internal battery |
Feature status
Captured Data processing offload
Radio Scripting (JavaScript & Python)
Spectrum analyzer
Fully working, yet 1 or 2 bugs in graph
Fixed codes
Some simplification & automation to be done
Android API & SDK
API doc to generate
iOS API & SDK
Working, but a bit dusty
De Bruijn attack (OpenSesame)
Jam/ capture/ broadcast attack (RollJam)
​Welcome!
Leave us your e-mail and receive all the latest updates on PandwaRF.
Warning: 
PandwaRF is a test equipment for RF systems. It has not been tested for compliance with the regulations governing the transmission of radio signals. You are responsible for using your PandwaRF legally.
The intentional jamming of RF signals is ILLEGAL. PandwaRF is designed for low power jamming and shall only be used for testing the robustness of your own devices.
If you have any further questions, feel free to contact us at gollumrf@comthings.com.
Made with love and pain by